My Interview Prep Book Is Now Available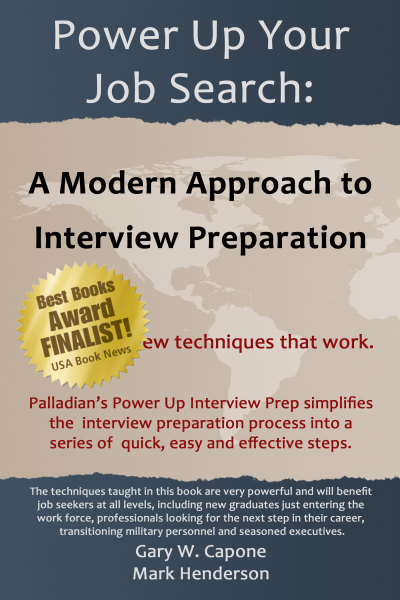 My new book, Power Up Your Job Search: A Modern Approach to Interview Preparation, provides a step-by-step system to prepare you for an interview, and will help you outpace the competition.  I co-wrote the book with my business partner at Palladian, Mark Henderson.
We started writing this book more than three years ago in an effort to develop a simple guide to help candidates in our executive recruiting business.  We were shocked by the poor interview performance of many exceptional job seekers.  Some of the most successful candidates in a field could not present their capabilities and potential effectively.  Over the years, we developed a powerful system to prepare individuals to interview quickly.  This book teaches our system in a clear straight-forward manner.
We wrote the book with three audiences in mind – experienced professionals and executives, transitioning military personal, and individuals entering the workforce.  Each audience possesses a different background, but similar needs.  To address all three groups, the book starts with several chapters that provide a foundation. It then moves on to advanced interviewing techniques. By following this approach and considering the needs of all three groups, the book will benefit the most experienced job seekers in a straight-forward style that even the least experienced job seekers will find easy to follow.
Almost everyone will benefit from this book, but some people need it more than others.  If a person has gone on an interview, felt they did great but never heard from the company again, they need this book.  Too many job seekers make fundamental mistakes in interviews but have no idea they are sabotaging their search.  These individuals need to learn the techniques in the book.
For regular readers of my blog, some of the techniques in the book will be familar, but a lot of the content is new and never published before.
To learn more about the book, go to Power Up Your Job Search.