Interview Prep Book Award Finalist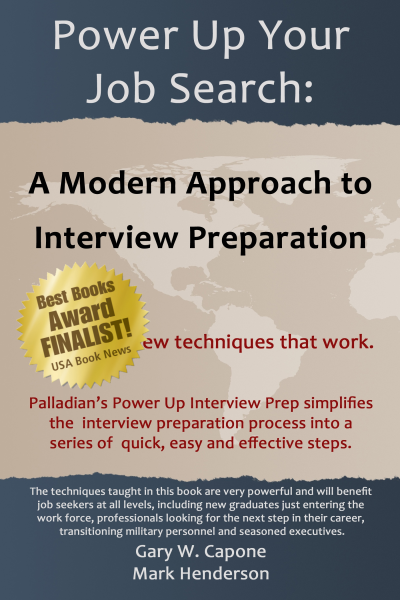 Power Up Your Job Search: A Modern Approach to Interview Preparation, my book teaching interview techniques for job seekers, was named an Award Finalist by USA Book News in the Careers category this week.  Since publishing the book back in March, I have heard from numerous job seekers who have used the book to improve their interview skills.
The book is set up as a step-by-step guide teaching how to get ready for an interview.  It is ideal for people who want a simple to follow process.  We intentionally worked to make the book as short as possible.  Each chapter, paragraph and sentence had to add value to stay in the book.  We also focused the book on specific skills anyone can learn.  This combination makes the instruction in the book quick and easy.
I wish there was a magic bullet that would get people hired.  It would make my job teaching interview skills a lot easier.  All I would need is a couple minutes with someone and teach them the "secret to interviewing."  There is no secret, and it will never be that easy.  To excel in an interview your need to develop your interview skills, prepare thoroughly and practice.  That's why an interview prep book like Power Up Your Job Search is so important.  It will teach you the skills you need to adapt to interviewers and questions that blindside you.
If you are getting ready for an interview, get a copy of the book.  The job market is too competitive and mediocre interview skills will lead to missed opportunities.